Control Transformers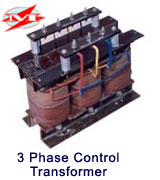 During the past 2 decades Mahendra Electrical Works has been engaged in the development of low reactance transformers for use with electro-magnetic control circuits. Given below are the salient features of our standard range of Single phase Industrial Control Transformers and general Purpose transformers.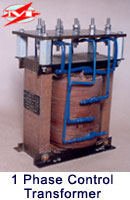 A Control Transformer is a transformer which supplies power to control and /or auxillary equipment not intended for direct connection to the main circuit. Control transformers are specifically used to provide control supply voltages for the control circuits of AC motor starters.
In addition Mahendra Electrical Works also manufactures a range of general power transformers. These can be of the single phase version or the 3 phase version with capacities from 1KVA to 50 KVA, system.
Charecteristics of Control Transformers: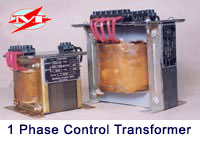 Mahendra Electrical Works Industrial control Transformers are low reactance type, designed to ensure good regulation at short time loads. To ensure superior voltage regulation Mahendra Electrical Works Engineers devote appropriate attention to reducing the percentage reactance and resistance drops in the transformer design. Reduction of these values to a minimum greatly improves secondary voltage regulation.

Testing:
Mahendra Electrical Works transformers are tested in accordance with our own stringent quality control standards and a number of Electrical tests, including turns ratio, exciting current, core loss and applied potential tests are conducted to assure conformance to design specifications.
Information required with enquiry/order
Single Phase or 3 phase
Earthed or unearthed systems
Frequency
Dry Type or Oil immersed
Rated power in KVA and Rated short time Power in kva
Highest system voltage/Insulation level voltage
Type of Connection/Vector group
Class of Insulation
Service Condition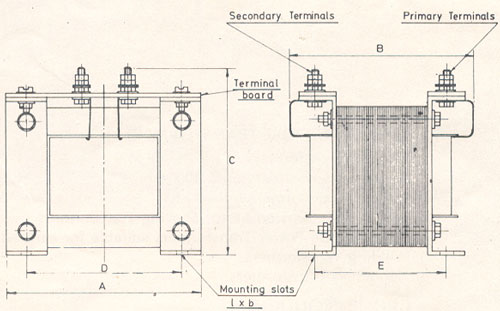 LT Single Phase, 50 Hz Air Cooled Control Transformer upto 3.5kVA


| | | | | | | | |
| --- | --- | --- | --- | --- | --- | --- | --- |
| Rating in VA | A(mm) | B(mm) | C(mm) | D(mm) | E(mm) | Slot(lXb) | Weight(Kgs) |
| 10 & 15 | 76 | 80 | 100 | 64 | 45 | 8X5 | 1.150 |
| 20 & 30 | 76 | 100 | 100 | 64 | 60 | 8X5 | 1.700 |
| 50 & 60 | 96 | 110 | 110 | 80 | 62.5 | 10X6 | 2.5 |
| 75 & 100 | 115 | 120 | 135 | 95 | 70 | 12X6 | 3.8 |
| 150 & 175 | 115 | 130 | 135 | 95 | 82.5 | 12X6 | 4.5 |
| 200 & 250 | 126 | 135 | 160 | 108 | 90 | 16X8 | 6.0 |
| 300 & 350 | 155 | 140 | 165 | 128 | 72 | 16X8 | 7 |
| 400 | 155 | 145 | 165 | 128 | 88 | 16X8 | 8.5 |
| 500 | 155 | 155 | 165 | 128 | 100 | 16X8 | 10.5 |
| 630 | 155 | 160 | 170 | 128 | 112.5 | 16X8 | 12 |
| 750 | 185 | 155 | 250 | 160 | 102 | 16X8 | 14 |
| 1000 | 185 | 155 | 250 | 160 | 102 | 16X8 | 15 |
| 1500 | 240 | 175 | 270 | 195 | 107.5 | 16X8 | 21 |
| 2000 | 240 | 185 | 270 | 195 | 120 | 16X8 | 29 |
| 2500 | 240 | 205 | 270 | 195 | 145 | 16X8 | 37 |
| 3000 | 235 | 235 | 270 | 160 | 145 | 20X10 | 42 |
| 3500 | 235 | 235 | 270 | 200 | 145 | 20X10 | 45 |
Note:
a.) Preferred Rated Primary Voltage : 110V, 240V & 415V
b.) Preferred Rated secondary Voltage : 24V, 48V, 110V, 240V
Tolerance: +/- 3mm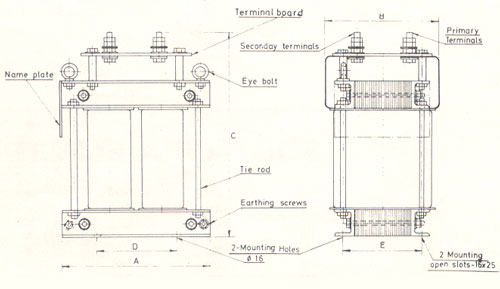 LT Single Pahse, 50 Hz Air Cooled Control Transformer from 4 to 50kVA


| | | | | | | |
| --- | --- | --- | --- | --- | --- | --- |
| Rating in kVA | A(mm) | B(mm) | C(mm) | D(mm) | E(mm) | Approx Weight(Kgs) |
| 4 & 5 | 300 | 240 | 450 | 200 | 155 | 65 |
| 6 & 7.5 | 350 | 260 | 500 | 250 | 155 | 82 |
| 10 | 400 | 280 | 550 | 300 | 160 | 95 |
| 15 | 450 | 300 | 600 | 380 | 165 | 120 |
| 20 | 500 | 350 | 650 | 380 | 165 | 135 |
| 25 & 30 | 550 | 375 | 700 | 450 | 185 | 160 |
| 40 | 600 | 375 | 700 | 450 | 195 | 185 |
| 50 | 700 | 400 | 750 | 500 | 225 | 210 |