Outdoor Oil cooled Current Transformer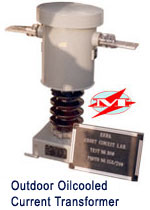 General Information:
Oil cooled transformers are made for use on various systems ranging from 11kv to 33kv. the basic construction of the CT is similar to CT of all voltage classes in that the core is placed in a tank mounted on top of the bushing and adequate paper insulation is provided on it. The secondary leads are run through the bushing to the secondary terminal box placed at the bottom of the bushing.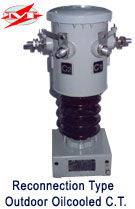 The advantage of this type of construction is that the transformer is dynamically more stable under short circuit conditions, the various forces on the primary conductors tending to balance on another. Requisite number of the primary turn are put on the core and the two ends are bought out for connection into the system. The primary ends are terminated on the terminals 30 mm dia 80mm long for easy connection into the system.In the case of two ratio current transformer in which the different ratios are obtained by primary reconnection, four primary terminals are brought out on the tank(corresponding to the two primary windings) and these are connected in series or parallel, by connecting links provided depending upon the ratio required. The transformers are fully sealed in construction and are supplied filled with required quantity of oil. Adequate allowance is made for expansion of oil due to temperature variations and as such a breather is considered unnecessary.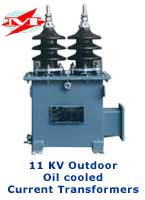 Since the transformer oil is never exposed to atmosphere the danger of its contamination is completely avoided. It is therefore not necessary to clean the oil during the life of the transformer. Oil fills and oil drains are, therefore not provided on the current transformers for voltages less than 132kv. For current transformers for 132 kv systems, oil fill and oil drain is provided but these are purely for manufacturing convinience and these are fully sealed before despatch.
This product is type tested at ERDA, Baroda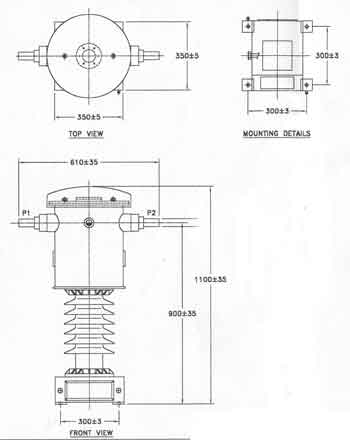 Technical information required for tendering
Ratio
Number of Cores
VA Burden
Accuracy Class
Rated Short Time Current Rating
Voltage Class
System conditions