Ring Type Oil Immersed Bushing Ct's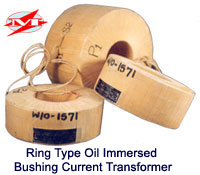 Mahendra Electrical Works is the established name in manufacturing of Bushing CT's for almost 3 decades. These Cts are used in distribution and power transformers upto 500MVA capacity and voltage class upto 400kv.
Mahendra Electrical Works has been supplying bushing CT's to all major transformer manufacturers in India like CGL, EMCO, Alstom, Bharat Bijlee, Transformers and Rectifiers India Ltd., Asea Brown Boveri. All products of Mahendra Electrical Works have been approved by major consultants, electricity boards and railways.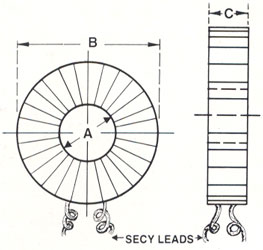 Features:
Mounted inside the transformer tank
It replaces the outdoor C.T. in the switchyard hence cost effective and maintenance free
Used for protection of high value power transformers
C.Ts. are manufactured in single as well as multi core, multi ratio
This product is type tested by ERDA, Baroda.
Application :
Used in distribution & power transformers, for metering & protective applications
Our bushing C.Ts. are widely accepted by all reputed transformer manufacturers all over India
Details required for ordering the bushing C.Ts.
Transformer Ratio
Number of Cores
Accuracy Class
Rated Burden
Knee point Voltage
Excitation current i.e. imag at specified % of vk
Secondary winding resistance
C.T. dimensions on request i.e. A, B, C